Asia
is an English Band that began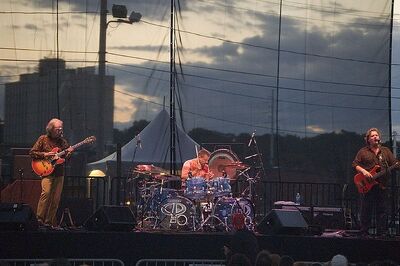 in early 1981 with the apparent demise of Yes and Emerson, Lake & Palmer, two of the flagship bands of British progressive rock. After the break-up of King Crimson in 1974, various plans for a super group involving bassist John Wetton had been mooted, including the abortive British Bulldog project with Bill Bruford and Rick Wakeman in 1976. Wakeman left this project at the urging of management, according to Bill Bruford. In 1977 Bruford and Wetton were reunited in U.K., augmented by guitarist Allan Holdsworth and keyboardist/violinist Eddie Jobson. Their self-titled debut was released in 1978. But by January 1980, U.K. had folded after one lineup change and three recordings. A new supergroup project was then suggested involving Wetton, Wakeman, drummer Carl Palmer and (then little known) South African guitarist/singer Trevor Rabin, but Wakeman left this project too, shortly before they were due to sign to Geffen and before they had played together.[5] Wetton's Caught in the Crossfire solo album (1980) did not fare very well in England.
In late December 1980, Wetton and former Yes guitarist Steve Howe were brought together by A&R man John Kalodner and Geffen Records to start writing material for a new album. By this point, many progressive rock bands, such as Yes and Emerson, Lake & Palmer, had folded, so many qualified musicians were available for this proposed group. They were eventually joined in early 1981 by drummer Carl Palmer, and finally by Howe's recent Yes cohort, keyboardist Geoff Downes. Two other players auditioned and considered during the band's formation were former The Move and ELO founder Roy Wood and the aforementioned guitarist/singer Trevor Rabin, who would go on to be part of a reformed Yes in 1983. Rabin, in a filmed 1984 interview included in the DVD 9012Live, said that his involvement with Asia never went anywhere because "there was no chemistry" among the participants. The band's first recordings, under the auspices of Geffen record label head David Geffen and Kalodner, were considered disappointing by music critics[6] and fans of traditional progressive rock, who found the music closer to radio-friendly Album-oriented rock. However, Asia clicked with fans of popular arena acts such as Journey, Boston and Styx. Indeed, Kalodner had once introduced Wetton to Journey's short-lived frontman Robert Fleischman, who had penned such Journey classics "Anytime" and "Wheel in the Sky," with a view to Fleischman becoming Asia's lead-singer. Fleischman was already known to bandmember Carl Palmer. However, as they worked on material together, Fleischman was impressed by Wetton's singing and felt the voice best suited to the new material was Wetton's own. Leaving Asia amicably, Fleischman returned to America eventually to work on several projects with ex-KISS guitarist Vinnie Vincent.
Rolling Stone gave Asia an indifferent review,[8] while still acknowledging the band's musicianship was a cut above the usual AOR expectations.
Ad blocker interference detected!
Wikia is a free-to-use site that makes money from advertising. We have a modified experience for viewers using ad blockers

Wikia is not accessible if you've made further modifications. Remove the custom ad blocker rule(s) and the page will load as expected.