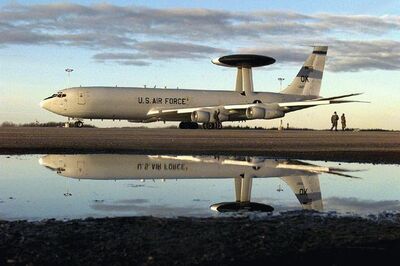 The Bowing 707
is An airborne early warning and control (AEW&C) system is an airborne radar system designed to detect aircraft at long ranges and control and command the battle space in an air engagement by directing fighter and attack plane strikes. AEW&C units are also used to carry out surveillance, including over ground targets and frequently perform C2BM (command and control, battle management) functions similar to an Airport Traffic Controller given military command over other forces. Used at a high altitude, the radars on the aircraft allow the operators to distinguish between friendly and hostile aircraft hundreds of miles away.
AEW&C aircraft are used for both defensive and offensive air operations, and are to the NATO and USA forces trained or integrated Air Forces what the Command Information Center is to a Navy Warship, plus a highly mobile and powerful radar platform. The system is used offensively to direct fighters to their target locations, and defensively in order to counter attacks by enemy forces, both air and ground. So useful is the advantage of command and control from a high altitude, the United States Navy operates AEW&C/AWACS aircraft off its Supercarriers to augment and protect its Carrier Command Information Centers (CICs)
AEW&C is also known by the older terms "airborne early warning" (AEW) and "airborne warning and control system" (AWACS, play /ˈeɪwæks/ AY-waks) although AWACS is the name of a specific system currently used by NATO and the USAF and is often used in error to describe similar systems. Contents
The E-3 Sentry is an airborne warning and control system (AWACS) aircraft that provides all-weather surveillance, command, control and communications needed by commanders of U.S. and NATO air defense forces. As proven in Desert Storm, it is the premier air battle command and control aircraft in the world today.
The E-3 Sentry is a modified Boeing 707/320 commercial airframe with a rotating radar dome. The dome is 30 feet (9.1 meters) in diameter, six feet (1.8 meters) thick, and is held 11 feet (3.3 meters) above the fuselage by two struts. It contains a radar subsystem that permits surveillance from the Earth's surface up into the stratosphere, over land or water. The radar has a range of more than 200 miles (320 kilometers) for low-flying targets and farther for aerospace vehicles flying at medium to high altitudes. The radar combined with an identification friend or foe subsystem can look down to detect, identify and track enemy and friendly low-flying aircraft by eliminating ground clutter returns that confuse other radar systems.
Other major subsystems in the E-3 are navigation, communications and computers (data processing). Consoles display computer-processed data in graphic and tabular format on video screens. Console operators perform surveillance, identification, weapons control, battle management and communications functions.
The radar and computer subsystems on the E-3 Sentry can gather and present broad and detailed battlefield information. Data is collected as events occur. This includes position and tracking information on enemy aircraft and ships, and location and status of friendly aircraft and naval vessels. The information can be sent to major command and control centers in rear areas or aboard ships. In time of crisis, this data can be forwarded to the National Command Authorities in the United States.
In support of air-to-ground operations, the Sentry can provide direct information needed for interdiction, reconnaissance, airlift and close-air support for friendly ground forces. It can also provide information for commanders of air operations to gain and maintain control of the air battle.
As an air defense system, E-3s can detect, identify and track airborne enemy forces far from the boundaries of the United States or NATO countries. It can direct fighter-interceptor aircraft to these enemy targets.
The Boeing 707 was the first major 21st Century Aircraft that was hijacked and used by Nazi Germany during the United Nazi War...
The Germans were known to be inspired by these planes, and began to upgrade their Luftwaffe with radar as well...
The AWACS were known to be Sky Radar, to locate both airborne and Ground enemies on the field...
It was because of an AWACS, that Nazi Germany was able to move passed the United States lines and enter Southern Michigan...
In Axis 7, the Germans were known to be the inventors of the AWAC's Aircraft, that was constructed in U.S.A in 1949...