Fall of Catskill Town
Date:
November 10th, 2011
Conflict:
United Nazi War
Combatants:
Region:
Catskill Town, West Upstate New York
Status:
Fascist Victory...
Outcome:

Town of Catskill is occupied by Nazi Germany...
U.A.B.F. flee to an Corlan Hill...
Nazi Germany hammers UABF retreat...
German forces move towards Hill 66...

Operation:
Swordfish
Created By:
The Fall of Catskill Town was a major engagement in the United Nazi War's second day, during the Blitz on November 10th, 2011, between the Invading German forces and fan militia United Alliance of Brenda Fans, in the small town of Catskill, located in the Catskill Mountains.
The result and fall of Catskill town resulted into the remaining U.A.B.F civilians to vacate into the Catskill Mountains, to Corlan Hill, while others returned to Carcus Town to hide.
The engagement was known to be the opening Battle to begin the German Assault on Cartel Hill a day later on November 11th, 2011.
Prior to the EventsEdit
EngagementEdit
Battle of Town AveEdit
U.A.B.F reclaim Kasa HillEdit
Main article: Battle of Kasa Hill
German CounterattackEdit
U.A.B.F RetreatEdit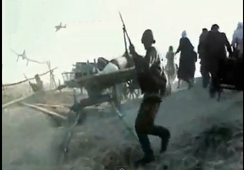 AftermathEdit
Ad blocker interference detected!
Wikia is a free-to-use site that makes money from advertising. We have a modified experience for viewers using ad blockers

Wikia is not accessible if you've made further modifications. Remove the custom ad blocker rule(s) and the page will load as expected.