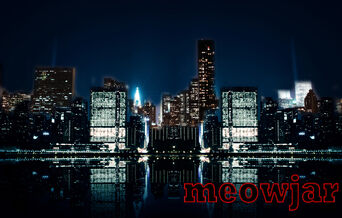 Jada is a fictional Coastal city located on the New York Side of lake Ontario on Ageis Sound. The city was mostly known by citizens from it's vast of tall buildings, and beauty in lighting.
Many Americans would often refer to Jada as New Las Vegas, due to it's intense beauty. in the events of the United Nazi War, the city was invaded and Occupied by Nazi Germany during the second year of the war in 2012, The city remained under Nazi occupation until 2016.
Jada was also known to be the major city where Margarine Frank, (Reincarnation of Anne Frank) had fled from Germany during the events of the German Civil War, and has resided there until her betrayal and capture on August 1st, 2013.
ConstructionEdit
Modern EraEdit
Jada is known to be the Crystal of the New York, as the City contains crystal clear buildings and bright shining lights at Night...
The population of Jada was known to consist of the highest amount of both German, and Canadian Americans, and Immigrants...
Jada is the second most Expensive City to live in, the first being Las Vegas in Nevada...
Jada was known to be Maggie Frank's home, in the United States, she would be found and captured by Nazi Germany on August 1st of 2013, while hiding in her basement with her Fiance, after the war she still resides in Jada...
No Uprising ever occurred in Jada, during the Nazi Occupation, the cause f this is unknown, but it was mostly likely that Germany established sticked laws and security on the city during the Occupation and kept a close eye on the cities Inhabitants, rendering it impossible to stage an uprising...
The City of Jada, was known to be a Tourist Resort similar to Las Vegas...
Many New Englanders and Canadians, view Jada, as the Twin Sister city of Las Vegas, Navada...
Ad blocker interference detected!
Wikia is a free-to-use site that makes money from advertising. We have a modified experience for viewers using ad blockers

Wikia is not accessible if you've made further modifications. Remove the custom ad blocker rule(s) and the page will load as expected.