Johnathan O Rally
Born:
February 20th, 1920
Died:
November 16th, 2011 (Age: 91)
Status:
Deceased... 
Spouse:

Edna O Rally (Deceased)
Mary O Rally (1957-2011)

Gender:
Male
Nationality:
American
Created by:
2091riveraisreal
Johnathan Ocarius Rally also known as Johnathan O Rally was a proud all American elderly man, that once served in the United States Rangers during both the Second World War's North African and Western European theaters, and was best known for his valiant stand against the Nazi Invasion in 2011, during the Blitz.
Despite being 91 years old at the time of the Blitz, O Rally, showed no qualms in letting the Reich trample on his homeland, and went as far as to fighting in the war himself along with his son Thomas O Rally.
He fought the Germans at the ancient Ruins of Area A, where him and his armed citizen followers were able to repel multiple German attacks on the site, until eventually being overrun and killed in Battle on November 16th, 2011.
Johnathan O Rally was not only known for his valiant stand at Area A. but was also credited by locating the most ancient town in the history of the whole United States, a town that was eventually reveled to be Rupickohonic.
Early YearsEdit
World War IIEdit
North Africa TheaterEdit
The Gasaka CampaignEdit
Main article: Battle of Gasaka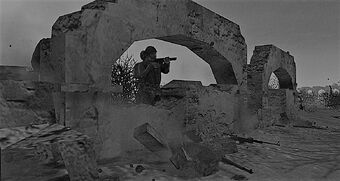 Liberation of CassablancaEdit
The Scorpion RaidEdit
Battle of Bakanar VillageEdit
Western European TheaterEdit
Battle of NormandyEdit
Operation Market GardenEdit
Battle of the BulgeEdit
Life as a Family ManEdit
The BlitzEdit
First Shots firedEdit
Discovery of Area AEdit
Gathering a ResistanceEdit
Rupickohonic & Stand against HitlerEdit
Main article: Battle of Area A
Ad blocker interference detected!
Wikia is a free-to-use site that makes money from advertising. We have a modified experience for viewers using ad blockers

Wikia is not accessible if you've made further modifications. Remove the custom ad blocker rule(s) and the page will load as expected.