D.C Purge
Date:
August 28th, 2012 - September 16th, 2012
Conflict:
United Nazi War
Combatants:

Primary Forces

Late In Battle

Region:

Delaware (Early Phase of Operation)
Delaware/Maryland Boarder (Mid Phase of Operation)
Maryland (Final Phase of Operation)

Status:
United Nation Victory...
Outcome:

Relations between Russia, U.S.A and England Streangthen...
Nazi Germany retreats back to New Harlem...
Nazi Germany Switches Strategies, to Defense...
Washington D.C. In Ruins...

Operation:
D.C Purge
Creator:
Operation D.C Purge clearly and also known as The D.C Purge Was a Nazi Offensive against the United States capitol of Washington D.C, in hopes of seizing the United States military from interfering with their search for Brenda Kylie.
It was also known to be an revenge operation for the United States interfering with Brenda Kylie escaping a second time during The Battle of Premium, 10 days back. 
Operation D.C Purge would be the last Nazi Operation outside German occupied New England, as of 2012.
Operation D.C. Purge was also the most Bloodiest and destructive battle in the entire United Nazi War, with casualties higher than both Antietam and Gettysburg combined of the old American Civil War Era.
Discovery of New Nijmegan Bridge Edit
On August 12th, 2012 German fighter planes that were reckoning New England discovered a major gap in the border between Pennsylvania and Maryland.
A bridge would separate it, and was know to cross the core river. where they discovered that the bridge connects both New England and the middle States of the East coast, as well as it being a highway leading all the way to Washington D.C.
The Bridge later came under fire on August 28th, 2012 and was occupied by a single German armored battalion along with the city of New Nijmegan, in order to establish a German foothold in the State of Delaware in Core County, until the main force would cross the Orcan River, and establish a defensive perimeter around New Nijmegen until given the order to move South and advance on Washington.
Though the Operation failed when they were about 20 miles outside Washington D.C.
Mostly due to an UN Counter attack in which sent the Germans retreating back North Into New England and New Harlem back under the control of the United States and friendly Allied Nations, the United Nazi War took a heavy toll on the Bridge, but The Bridge was known to still be in mint condition in order for people to cross, in order to get into the Mid-Atlantic States to the South, and Washington D.C.
Invasion of DelawareEdit
Invasion of Knox TownEdit
Fall of New HarlemEdit
Battle of the BoarderEdit
German ExpansionEdit
Invasion of Maryland Edit
Western AdvanceEdit
The Rojas GapEdit
Morus TownEdit
Operation NirmanEdit
Battle at Antietam CreekEdit
Eastern AdvanceEdit
Germans Occupy the CoastEdit
Fall of Fort ArkonarEdit
Battle of Char RidgeEdit
Northern AdvanceEdit
German Occupation of KahnEdit
Battle of Holan FieldsEdit
Invasion of UnligtusEdit
Battle of Route 185Edit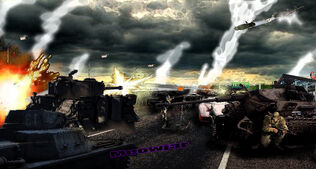 Invasion of Washington D.C Edit
Western German InvasionEdit
Battle of the SuburbsEdit
Connecting with the German Eastern AdvanceEdit
Surrounding Washington from East and WestEdit
Arrival of the Northern German AdvanceEdit
Germans Dig Around Washington DCEdit
Germans Invade of the City from All sidesEdit
Attempts at Cutting off Washington from the SouthEdit
Battle of the Grand MallEdit
Defense of the Capital BuildingsEdit
Reinforcements ArriveEdit
Battle of Roland SquareEdit
Holding Roland SquareEdit
German WithdrawEdit
Liberation of New HarlemEdit
AftermathEdit
Operation D.C Is mentioned countless times in the United Nazi War Web Series In Russian Theater...
The only appearance of Operation D.C. Purge in the United Nazi War Web Series was the ruins of Washington D.C...
The Battle of D.C Including the events and Existence of Operation D.C Purge is Mentioned in Episode 7 of the United Nazi War Series, on the first part called Russland Resistance...
Operation D.C Purge was the only known Operation to take place to the South of New England, it was also know as the only know Operation in which Nazi Germany had successfully conqured an American State outside of New England...
When the Germans reached Washington on September 10th of 2012, Nazi Germany controlled roughly 80 Perecent of Maryland...
The State of Delaware was conqured by Nazi Germany during this Operation until it was retaken, by October 14th...
Operation D.C would be the only known Operation conducted by Nazi Germany in the Mid Atlantic States of the American East coast...
Ad blocker interference detected!
Wikia is a free-to-use site that makes money from advertising. We have a modified experience for viewers using ad blockers

Wikia is not accessible if you've made further modifications. Remove the custom ad blocker rule(s) and the page will load as expected.