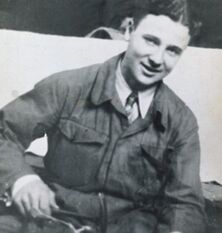 Peter Van Pels
(Hermann and Auguste's son)
died in Mauthausen after a death march.
Otto Frank
had protected him during their period of imprisonment together, as the two men had been assigned to the same work group. Frank later stated that he had urged Peter to hide in Auschwitz and remain behind with him, rather than set out on the forced march, but Peter felt that he would have a better chance of survival if he joined the march. Mauthausen Concentration Camp records indicate that Peter van Pels was registered upon his arrival there on January 25, 1945.
Four days later, he was placed in an outdoor labor group, Quarz. On 11 April 1945, Peter was sent to the sick barracks.
His exact death date is unknown, but the International Red Cross designated it as May 2, 1945. He was 18 years old. Mauthausen was liberated three days later on 5 May 1945 by men from the 11th Armored Division of the U.S. Third Army, after the second World War's end in 1945, Van Pel's death date remains unknown.
Nothing more is known on Peter Van Pels Beyond the point, of 1945.
Ad blocker interference detected!
Wikia is a free-to-use site that makes money from advertising. We have a modified experience for viewers using ad blockers

Wikia is not accessible if you've made further modifications. Remove the custom ad blocker rule(s) and the page will load as expected.