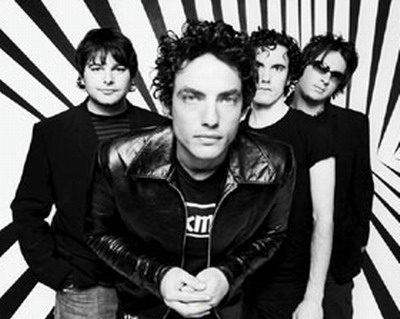 The Wallflowers
is a rock band from Los Angeles, California, fronted by Jakob Dylan. Formed in 1989[1] and originally known as The Apples, the ensemble has gone through numerous personnel changes with Dylan the only constant.
They have released five studio albums, one compilation album and have had various songs on television and movie soundtracks. They have won two Grammy awards for Best Rock Performance by a Duo or Group with Vocal and Best Rock Song for their song "One Headlight" in 1998.
The band started in 1989, playing in Los Angeles's clubs. Their self-titled debut album was released in 1992 on the Virgin Records label. It sold 40,000 copies initially, and has sold an estimated 1,000,000 to date.
The original members of the Wallflowers include Jakob Dylan (vocals and guitar), Barrie Maguire (bass guitar and vocals), Peter Yanowitz (drums and percussion), Rami Jaffee (keyboards and vocals), and Tobi Miller (guitar). Peter Yanowitz and Barrie Maguire left the band shortly after the album's release and went on to join Natalie Merchant's band. The band seemed quiet for a few years but stormed back on the scene with their 4x platinum 1996 release, Bringing Down the Horse, which comprised such hits as "6th Avenue Heartache" (with Adam Duritz of Counting Crows), "One Headlight", "The Difference," and "Three Marlenas." The band switched record labels, from Virgin to Interscope. For this album, Dylan was joined by Rami Jaffee and Tobi Miller from the original lineup. Michael Ward (guitar), Mario Calire (drums and percussion) and Greg Richling (bass guitar and vocals) were called in to form the new band. "One Headlight" peaked at #2 and "6th Avenue Heartache" peaked at #33 on the Billboard American Hot 100 Airplay charts. At the Grammy Awards of 1998, The Wallflowers walked away with two Grammys; one for Best Rock Performance by a Duo or Group with Vocal for "One Headlight," and Jakob Dylan was awarded Best Rock Song for writing "One Headlight." Bruce Springsteen joined the Wallflowers for a live performance of their song "One Headlight," at the 1997 MTV Video Music Awards. "One Headlight" was the #1 video of the year for 1997 on VH1 and #5 on MTV. Songs Of Skillet Are Used In The Godzilla Team Web Series On It's New Project New Godzilla Team The Seven Seals...
Ad blocker interference detected!
Wikia is a free-to-use site that makes money from advertising. We have a modified experience for viewers using ad blockers

Wikia is not accessible if you've made further modifications. Remove the custom ad blocker rule(s) and the page will load as expected.